Welcome to MyWin Systems Sdn Bhd
Since January 2009, we have been the exclusive Certified KarenSoft Solutions Provider of the KarenSoft TM range of Business Software Solutions. Staffed by highly experienced ex-KarenSoft personnel, we aim to provide continous support for existing and future users of the popular KarenSoft FAS, FAR, HRIS, SDS, MRP, PCS business software solutions.
Since acquiring the KarenSoft TM in 2009, we had invested significantly in new Research & Development with a view of releasing new software products under the KarenSoft TM brand. After more than a year of intensive research and development,the first product released after the said acquisition was the KarenSoft FAR 2010 which was released on 16th February 2010. Subsequently, KarenSoft FAS 2010 for SQL was released on 30th June 2010.
In order to meet the challenges of the impact of Windows 7, 64-bits (W7-64) operating system, our R & D software engineers had in 2010 commenced the development of W7-64 compatible engines powering the KarenSoft range of software products. On 11th March 2011, the W7-64 compatible version of the FAS processing engine was released. Subsequently, the Report Writer engine for W7-64 was released on 23rd March 2011. In 2013, the development of the W7/8 64 bits version were completed and released.

The PCS 2014 for the Hospitality sector was first released on 1st July 201 and the latest release is PCS 2014. Our HRIS products, PMS2014, HRMS 2014 and TMS2014 were released on 18th March 2014. KarenSoft FAS 2014 for GST (FAS4GST) has been approved by Jabatan Kastam DiRaja Malaysia (JKDM) wef from 25th July 2014 as GST compliant :-)
Latest Developments
On 1st February 2018, the 64-bit compatible KarenSoft FAR4W10 with the Ribbon Interface was released.
With the implementation of the Sales Tax Act 2018 and the Service Tax Act 2018, KarenSoft FAS4SST has been ready for installation since 30th August 2018.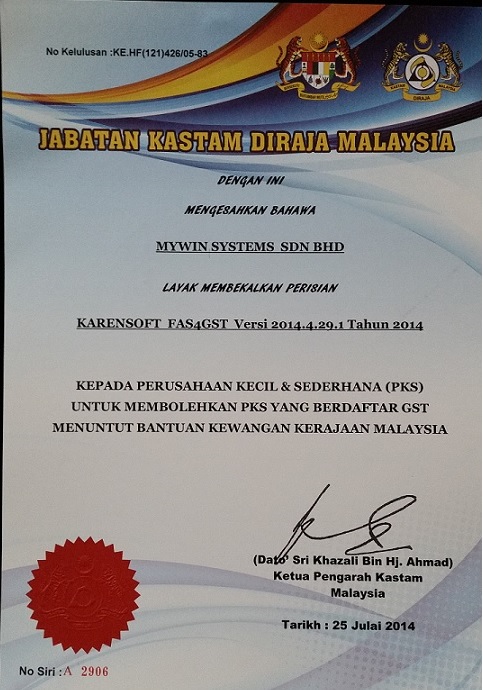 KarenSoft FAS4GST- JKDM Certificate